.223/5.56? Gage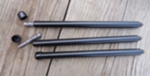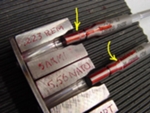 This gage tells you if you have a chamber that is 5.56 NATO (or larger), or something shorter/smaller.
The gage looks a lot like a headspace gage but it does not gage headspace. It comes with its own rod which you thread into the tapped hole in the back of the gage. Unload and open your rifle, pull the bolt group, make sure the chamber is clean so there is no false reading, and drop the gage in. If the gage's shoulder "clinks" off on the shoulder of the chamber and the gage drops or pulls free without sticking or resistance, you have a chamber that is 5.56 NATO or larger. If the gage goes in and wants to stick, as in, you let it in and it pulls with a little resistance, or you try and turn it but it does not turn freely, you are short of 5.56 NATO and probably have a .223 chamber. You can color it up with a Sharpie, put it in and spin it (clockwise) to observe where it's contacting the chamber first.
Note that the gage will also stick in a .223 Wylde chamber since the Wylde's freebore is smaller in diameter than the 5.56 NATO's. It's my opinion that the Wylde chamber ought to be OK with 5.56 NATO ammo, but I have not delved into this scientifically. I don't own anything with the Wylde chamber, so I have no first-hand experience with it. The smaller freebore, I suppose, would make it more crud-sensitive.
The newly designed (3/15) handle acts as a case for the gage, preventing loss and damage.
Probing either a .223 SAAMI or .223 Wylde chamber with this gage will not harm the chamber unless you decide to really try by hammering it in. Don't do that.
Price is $65, add $10 for Priority Mail, or $5 for first class.
You can PayPal me the funds using my email, metalmaster@m-guns.com, or send a check made out to Michiguns to:

MG
Box 42
Three Rivers, MI 49093