include 'nav.ssi'; ?>
Bowling Pin Guns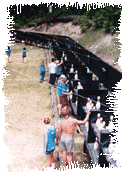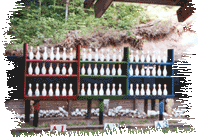 I'm not sure if it was an actual stroke of genius when Richard Davis came up with the idea of shooting bowling pins in the mid seventies, or just his great execution of it in the Second Chance Bowling Pin Shoot, but it sure caught on and it sure is fun. In the shooting context, it is the ultimate in instant gratification, firing five rapid shots and having five pins go three feet straight off the back of the table without giving you any disrespect!
I figure I've sent about 30,000 to 50,000 bowling pins to that big alley in the sky... not an incredibly large number compared to the guys who are really serious about it, but enough that I have a good idea of what kind of gun it takes. The compensators you will see on this page are 100% made by me in my shop. For the 1911 pistol, they usually start out as 2" diameter 4140 barstock, 5" long. Likewise, the magazine well on these 1911's starts out as a block of 4140, about 1 1/2 X 2 X 3. It and the frame are machined and perfectly mated; the magwell is welded in place on the outside; final machining of the funnel is done, then it's welded again on the inside along the frame/magwell joint, and the weld is smoothed off. The welded area is "color matched" to ensure that the welded area is of the same hardness as the surrounding steel, so that it will be invisible after finishing.
Long story short, a lot of work, but not everybody will have one, either. I like to view work like this not in the here and now, but from the eyes of somebody examining it, say, two centuries from now. I like to imagine them looking it over and wishing it could talk, wondering where it's been, and I try to do the work in such a way that they can't put it down.
---
Valo's V-1 Superhigh
Use the controls at the bottom of the image to see an animated 360° view!